Every character in a roleplaying game is of some race. That's just how things work. Usually picking your character's race is the first choice you have to make when building a character. But what's in a race? Let's take a look at the races of DnD to find out.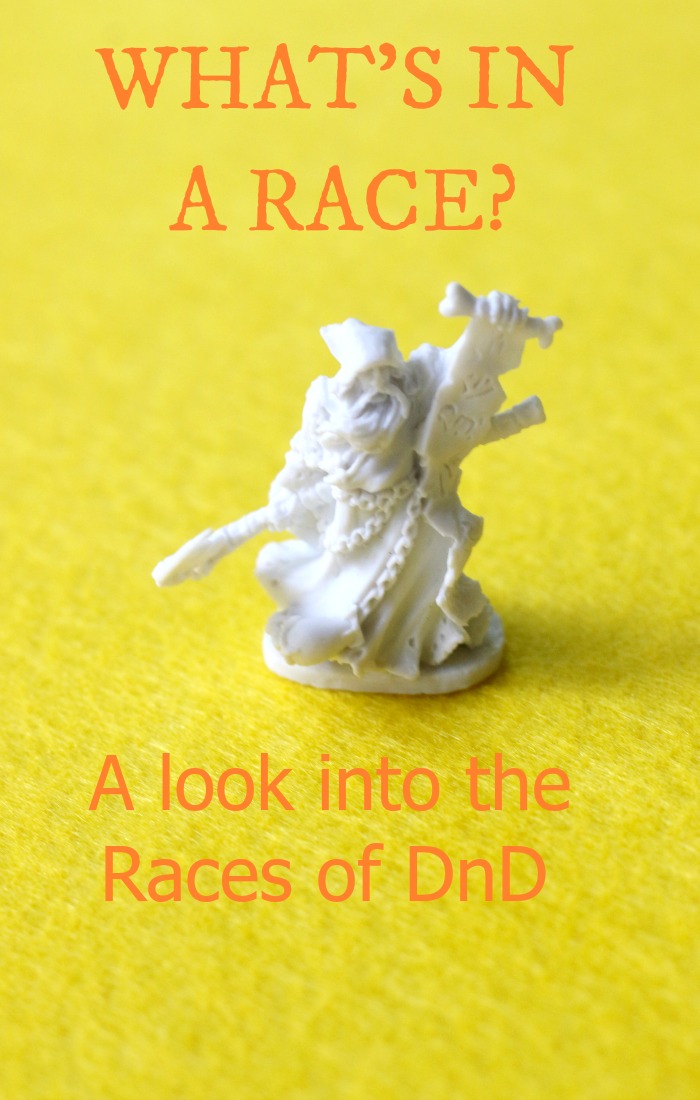 So what defines a race? What differentiates them from each other? The answer varies depending on who you ask. Some say it's how they look, others say it's how they act, some even say it's where they come from. None of these answers are wrong, so let's look at what makes them right.
The first thing you'll notice about a race is its looks. Dragonborn have their draconic features, tieflings have their demonic horns, and halflings have their half…size. Whatever their features are, a race will be identifiable by them, so if you pick a race you'll want to pick one that looks good to you, right? Here's where we need to take a closer look. A lot of newer players will see a picture of a race, think nothing of it for its bland look, then move on. But if you're not open to the possibilities of that race, then you might miss out on a character concept that you'd love.
Take me for example, for the longest time I only played the most outlandish races. Warforged, shardminds, thri-kreen; if it was fantastic it was on my sheet. It was only after I took up the mantle of GM that I noticed I was taking the more realistic races for granted. Before becoming GM, I never even thought of being a human, but when your npcs end up being human eventually you start to see their worth as a race.
What you need to keep in mind when looking at races is that the pictures your given of the race aren't entirely representative of that race. There are many possibilities for he look of each individual race, just like in real life. How many humans have you seen that look the same? Probably none unless you aren't very perceptive. So what makes you think the same doesn't apply for elves and dwarves? Think outside the box and you can come up with some fantastic ideas for not so fantastic races.
When creating a character, you'll have to ask yourself how they act. This is inherently tied to the race, but it doesn't have to be defined by it. For example, eladrin are considered the most regal and uptight of the DnD races. Maybe you like the look of them, but don't want to act snobbish towards your friends? That's alright; not all eladrin have to be snooty. In fact, that can play into your character even more. Perhaps his looser personality didn't play well with other eladrin so he decided to set out on his own. Personalities can be shaped by races, but don't let it define them.
Each race has a long and rich history at their backs. Some even have decades of story building by multiple writers through many game editions. That's a lot to play with. Some say that the history of a race defines that race. I'm one of those that say this, although I do believe the other factors work into the equation as well. The history of different races usually defines how characters interact with those races. Tieflings are usually seen as evil, so the world will treat a tiefling with caution. Humans are usually the most welcome. The list goes on and on.
You can use your character's racial history to your advantage. Use your elf's ability to walk both the normal and Fey plane to create a great adventurer. Employ your dwarf's knowledge of gemstones to create a legendary treasure hunter. Utilize your goliath's power and love for competition to make him the greatest gladiator. Every race has a past; use it to help create one for your character.
Regardless of whether you focus on looks, acts, or backgrounds, your character's race is made up of all of them. By using them all in a clever way you can create a character that breaks the norm of their race and becomes a hero to their race. So set out to break expectations and make great things happen. While you're doing so, keep those dice rolling high!