Do you need help running a game? Do you want that prized miniature painted just right? Or perhaps you want to immortalize your favorite D&D memory in written form? Bravo Bard has your answer right here? I provide multiple services, including running fifth edition Dungeons and Dragons games, painting miniatures, and writing short stories of your favorite adventures. Allow me to explain each of these in detail. If you have any questions, or wish to commission me for any of my services, contact me using the links at the bottom.
Professional Game Master
Great for celebrations, team building exercises, or even conjuring someone to run the game so you're not stuck doing it yourself. I run games for all occasions. From brooding political thrillers to light hearted fantastic adventures, I use a variety of themes to ensure each group has the best time possible. I will run your choice of either an official D&D adventure, or an original adventure of my own design. Games typically run for three hours, though they can be made to last longer if your group desires. I run one shots most often, so that players can enjoy a full story in one sitting. However I also offer the option to run campaigns. This is a great idea to make any occasion  memorable and unique! Prices start at $50 for a three hour session. Due to concerns with Covid-19, all games will be held online through Discord and Roll20. Choose from any of these adventures:
Oneshots
Murder on the Eberron Express- A ride on the lightning rail goes awry when one of the prominent guests is murdered. The culprit could be anyone, even you!
Maxximum Madness- A high octane race through Avernus where anything can happen!
Pirates on the Astral Sea- Become a pirate and plunder the astral sea in this special max level one shot!
Campaigns
Waterdeep: Dragon Heist- Comb the streets of Waterdeep and meet its prominent inhabitants as you prepare for the caper of your lives.
Descent into Avernus- Journey into the plane of Avernus as you attempt to bring the city of Elturel back from Hell itself.
Tomb of Annihilation- Explore the jungle continent of Chult and search Acererak's tomb for the source of the soul stealing curse.
Player Jerimiah Gorman had this to say about the game:
"Andrew hosts a Saturday night game for my family. He took time to work with us on developing backstories and creating a compelling narrative amongst our party as well as within the campaign. He manages story elements that are exciting for both two adults and my sons who are 7 and 10. He is considerate in the content presented and encourages creativity in all facets of the game. The combat is challenging and tactical. The world he paints is beautifully described and the social interactions range from tense to amusing. We love playing with him as a DM and our weekly game has become a highlight of our week. If you are a fan of fun then definitely consider Andrew for your next session."
Miniature Painting
If you've ever had a figure you wanted to drop on the table for others to admire, you've come to the right place. I paint miniatures that catch the eyes and tell a story. I paint any miniature, from Reaper to Warhammer, and everything in between. Send me your miniature, and a description of how you'd like it to look, and I'll send back a miniature you'll be excited to bring to game night. But don't just take my word for it; take a look at some of my work! For more examples, as well as my current projects, follow my Instagram. Prices start at $30 for a standard figure, but can increase with the scope of a project and decrease with the number of minis commissioned. There are also minis already painted available on Etsy.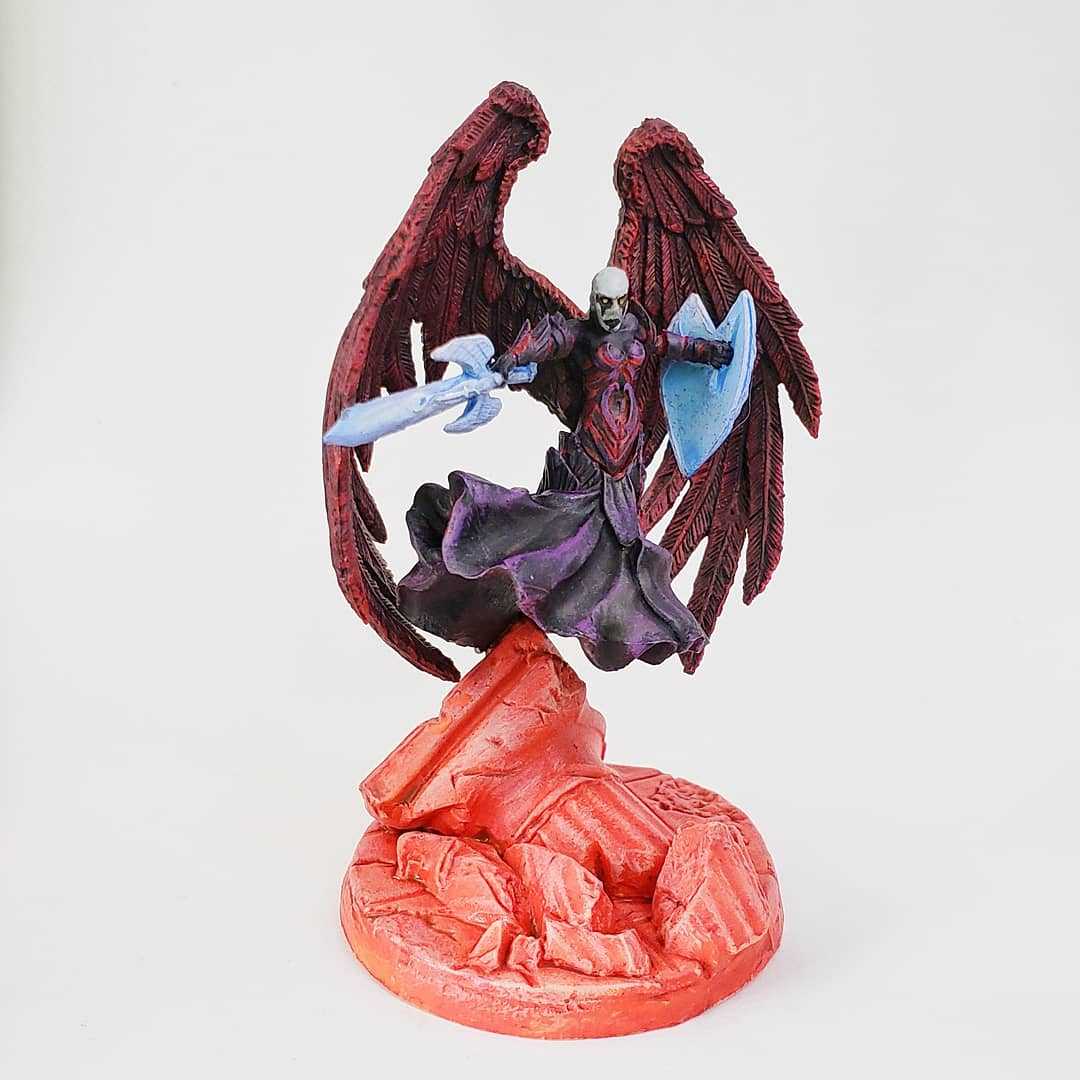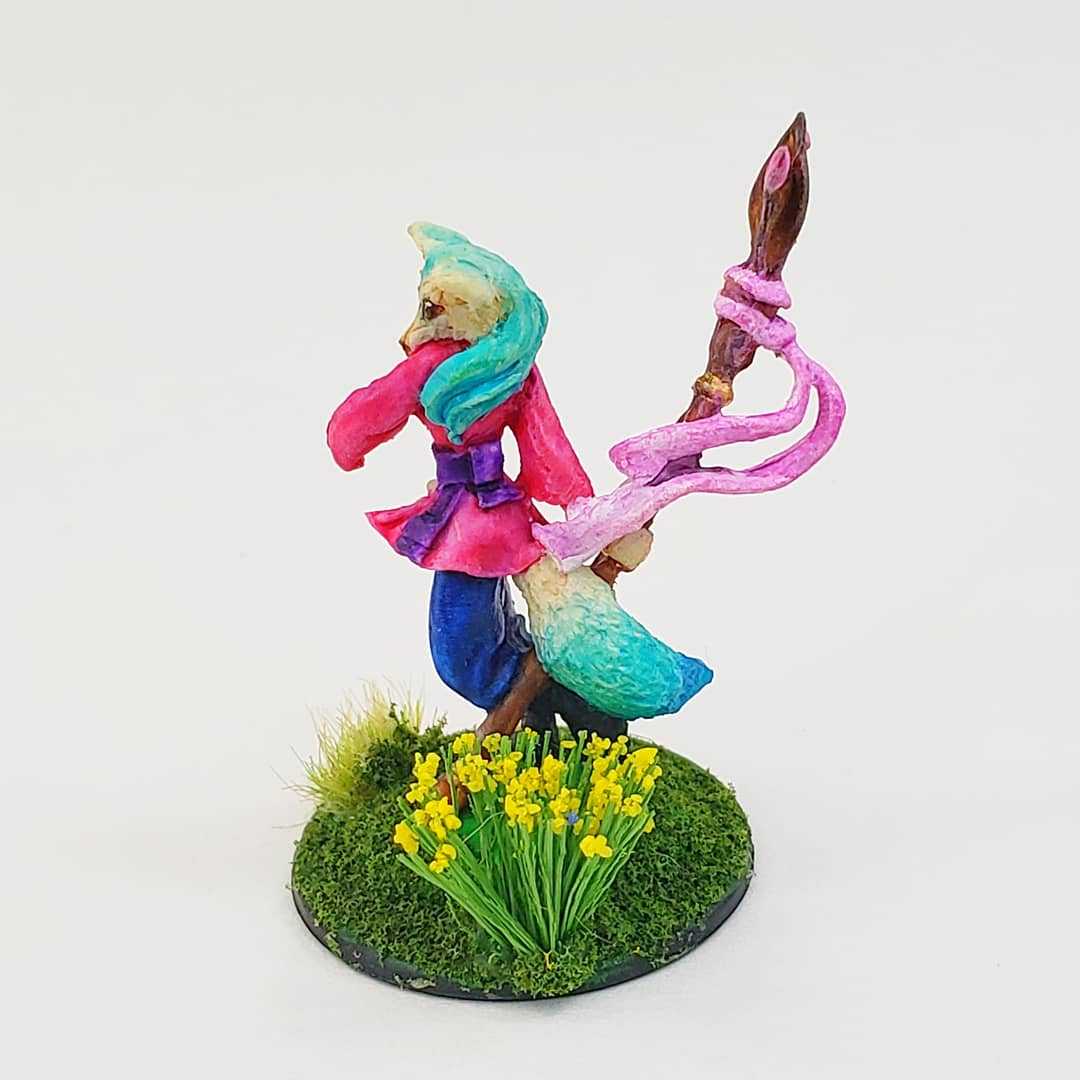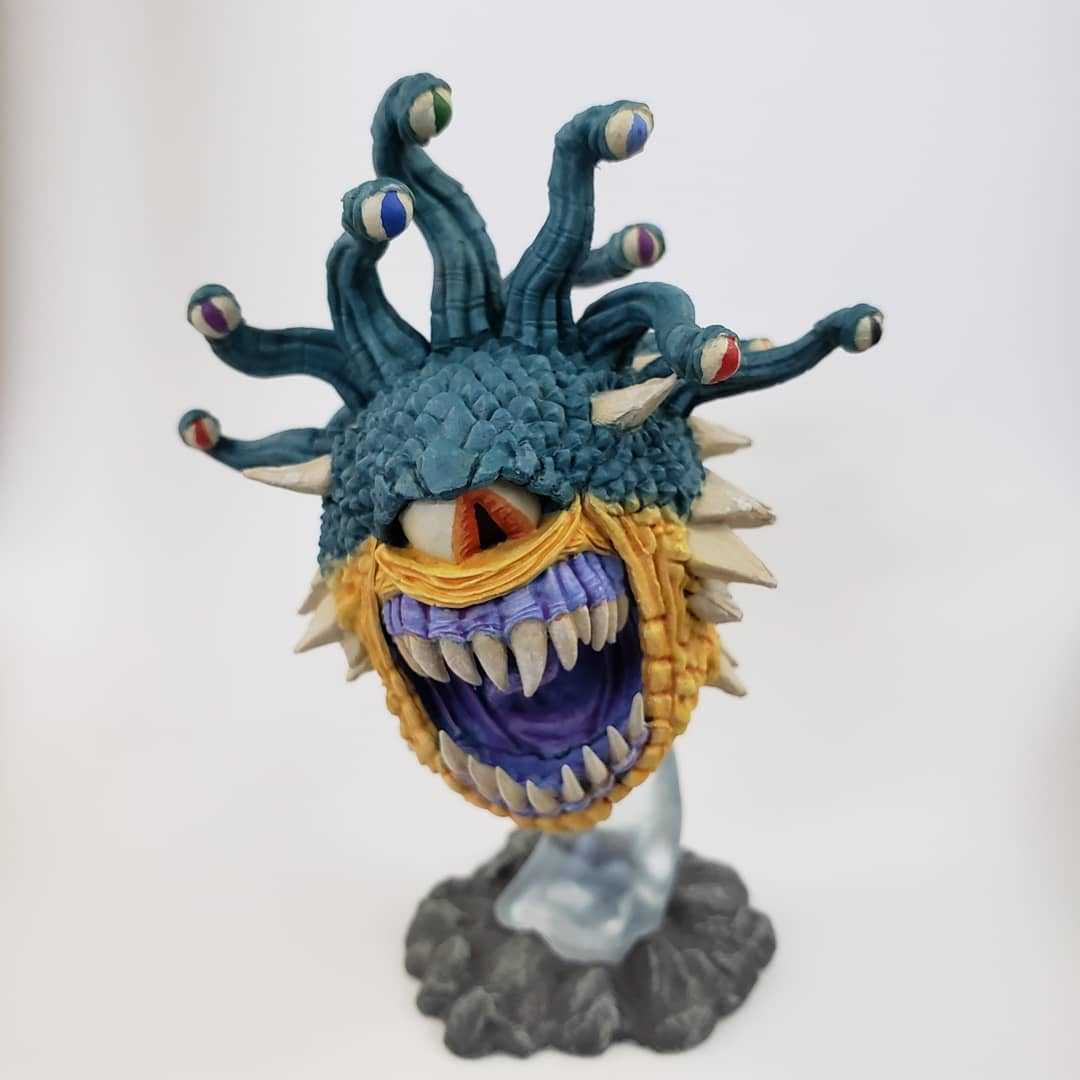 D&D Stories
Dungeons and Dragons is a fantastic game where friendships are forged and memories are made. My service ensures that those memories never dull. With this service, I will have a conversation with you where you'll tell me your favorite story from a game you've been a part of. I will then set your story to ink, solidifying it into a story that you can read whenever you please. You can make sure your memory of your favorite game never dulls, or you can show your GM some love by showing them how much their game meant to you.  The price for these stories starts at $20. Here's an example of what you can expect:
The Battle for the Self
Torchlight flickered on the jade walls, bobbing in time with hurried footsteps as a group of adventurers ran down the labyrinthine corridors. "This way!" exclaimed Karosh, the human monk, unaware of the motion behind him. With the sound of grinding stones and a guttural growl, the wall starts to shift. Flat jade transformed, forming legs that step out with purpose, powerful arms that grasp outwards, and a taurine head with horns poised to strike. Karosh glanced behind him at the jade minotaur, then back to his party. "Alright…let's try a different way." Karosh said with a nervous chuckle before joining the group in fleeing.
A few twists and turns later, the end of the labyrinth became clear. The entrance to the archive was within their sight. But the minotaur was on their trail and closing fast. The jade behemoth let out a monstrous bellow and charged. "Run or die, your choice!" yelled the kalashtar paladin Bothlan. The rest of the adventurers joined as they ran to the iron doors that led to the archive. One by one they dived through the threshold, until all four adventurers were within the library. They cleared the doorway quickly as a large jade hand thrust its way inside, grasping fruitlessly at its prey. 
The group took a collective sigh of relief as they stepped further into the archive. Karosh looked to his elven wizard ally, "great, now I'm going to have to punch my way through a jade cow man. Do you know how hard jade is, Ivan? Not that hard, but still. This trip better be worth the hassle." Ivan chuckled, saying "my dearest Karosh, this archive is home to hundreds of the world's greatest artifacts, arcane and religious. I'm sure we can find something useful here." Karosh scoffed before following the smug elf. Before getting too far, he felt a stiff wind whip around his pant leg. He turned to meet the gaze of Bree, the young wind genasi girl who was the eye of her own personal tornado.
"Just because a thing is strong, doesn't mean it's good," she spoke quietly, "sometimes those things should stay locked up." Her eyes landed on herself in a nearby mirror before she quickly averted them. Karosh stopped for a moment, kneeling down to Bree's height. "Nothing should be trapped against its will, no matter how strong they are." He smiled at her, and they both moved to rejoin the group.
The party roamed the hallways, peering at thousands of books that lined their shelves. Soon the halls gave way to an open area. At the middle of this space stood an obsidian shrine, an obelisk black as night and raven shaped. At the top of the shrine sat a mask. The mask resembled a human skull, but was much more angular and bore crimson arcane markings.
Ivan approached a plaque at the base of the monument, reading it. "The skull is an eternal symbol: a reminder that we all share the same fate. This symbol was used by the Raven Queen's chosen warriors as a threat to all who oppose her. They wore masks like this to house their power, allowing them to brush closer to death as they sought the power to overwhelm others. But beware, for even the warriors found trouble keeping their identities separate from the fate that binds us all. The warriors… hey!" By this time Karosh had climbed the shrine and plucked the mask from its perch. He grinned wide, "Come on now, something with that much exposition has gotta be good!" With a flip, Karosh jumped off the obelisk. He stuffed the mask into his pack, giving Ivan a wink. Ivan groaned, but the group pushed forward. 
Some time later, the party came across another open area. At its center there was a tall, cylindrical tube. Its walls were made of glass, allowing everyone to peer inside at the ink within. An amorphous blob of black ink swirled around inside the tube. Bothlan peered at the plaque, which just read "abyssal parasite under study". As he got closer to investigate the ink, the ooze within slammed itself towards the paladin, bashing itself against the glass. Bothlan took a step back, proclaiming "this thing reeks of evil and hunger. We would do well to avoid it." Ivan nodded in agreement and the two adventurers pressed on.
But Karosh stayed to look at the creature. He placed his hand on the glass. When the creature bumped into the glass to meet his hand, Karosh was stricken by a vision. Memories flashed through his head, giving him sight of battles he had not fought before. Each of the memories had different combatants, but one factor remained the same throughout: a victorious warrior encased in an inky black shell. Coming back to consciousness, Karosh knew what to do. 
Karosh curled his fingers into a fist, driving it straight through the glass. "What are you doing?!" screamed Bree. "I'll tell you once I figure it out myself," said Karosh. The inky ooze crawled up Karosh's arm, engulfing it as it traveled across his body. With his other arm, Karosh reached into his pack, pulling out the mask he had pilfered before and placing it against his face. "Karosh, no!" Bree shrieked, but her words grew silent as the world around Karosh fell to blackness.
When he opened his eyes, he found himself alone in the archive. "Um, hello?" Karosh spoke out, "Bothlan? Ivan? Bree? Jade bull thing?" No one answered his calls; not Ivan, not Bothlan, not even Bree. He ran down the corridors, endless as they seemed before, they seemed even longer now. He looked down at himself, seeing only his own body without any black tar. He didn't have much time to ponder where the abyssal ooze might've gone before a voice cut through the silence.
"Well well, looks like you've finally made it. Took you longer than I expected." Karosh wheeled around on the balls of his feet, bringing his fists into a defensive stance. They lowered slightly upon seeing the speaker. There, in front of Karosh, stood a man who looked nearly identical to Karosh, except for bone white skin. The pale man chuckled as he flipped through a book. His movements felt unnatural. He moved with the same posture and stance that Karosh possessed, but his image seemed to stop jarringly, as if someone had removed frames in his animation.
"Who-what in the hells are you? Why are you strikingly handsome? What have you done with my friends? Where's Bree?" yelled Karosh, stepping forward threateningly. The pale man clicked his tongue, wagging his finger. "They're not here right now. They have…bigger things to worry about. For now let's have some quality time together, and get to know each other!" With that, the man threw the book at Karosh, charging right behind.
With the sound of shattering glass, Ivan and Bothlan turned to see what Karosh had done. "Bad?" Bothlan inquired. "Very much so," Ivan replied. The two adventurers ran back, Bothlan drawing his sword and Ivan lighting his hands with arcane energy.
Karosh's body stood in front of Bree, unmoving except for the roiling mass of ink that grew his form larger with each passing second. "Karosh?" Bree's voice wavered, "Karosh are you still-" she was cut short by a loud roar that mixed Karosh's voice with something deeper. This thing puppeted Karosh, but was certainly not him. It yanked the remains of the glass case over its head and smashed it at Bree's feet. Shards of glass flew towards Bree, blown away before they could cut her. The thing that was formerly Karosh loomed over her. Black ooze had covered his body, but the mask remained uncovered. Uncovered except for the mouth, which had been malformed into a twistedly large maw that opened towards Bree.
Bothlan dashed forward, interjecting himself between Karosh and Bree. The creature that was Karosh leaned in close, licking its lips in anticipation. From behind the creature, Ivan muttered an incantation. Each of his fingertips lit up with points of light, each of which shot out and dug into the monster's hide. "Don't hurt him! It's still Karosh in there!" Bothlan exclaimed. The monstrous Karosh took a large swing, its clawed hand grabbing Bothlan in one scoop. Inky tendrils sprouted from the creature's feet, carrying it up the side of the wall. Bothlan hung upside down from the monster's grasp, screaming "Hurt him, hurt him!"
Fire engulfed Ivan's hands as he spun them in arcane motions. He released the gouts of flame towards the monster. The streaks of fire twisted around each other in a helix formation, slamming against the creature in an explosion. The monster shrieked in a deep and pained tone. It released Bothlan. He fell to the ground with a thud. A second after, the monster landed on him with a force that cracked several ribs. The monster's masked face turned to meet Ivan, and the creature charged.
In a blink of an eye, the creature was up on Ivan, poised to strike. Ivan raised his hands, forming a translucent barrier in front of him. The creature clawed at the barrier, shredding it into shards. With the other hand the creature punched, slamming its fist into Ivan's head and sending him sprawling. Behind Karosh, the sound of crunching glass broke the silence. The creature spun around, noticing Bree. 
She took a step backward, eyes locked on the creature. It stumbled forward, as though inhibited in its movement. Both Bree and the creature hesitated for a moment. Then the creature roared again, swinging its claws at Bree. The clawed hand met resistance as it hit Bree's wind barrier. But the claw pushed through and caught her cheek, drawing blood for the first time since she could remember. She shrieked as she tripped backwards. The monstrous Karosh responded with a dual toned howl, clasping its head with its hands. The creature lashed out wildly, crashing into shelves and tearing through books.
In the halls of Karosh's mind, he heard a distant echo of a shriek. He didn't get time to process it before duckinging a book thrown at him. He snatched the book in midair, bringing it down to swat away the first strike of the pale man.  His hands shot up to meet the fists of the pale man. Their faces nearly touching, it was like looking into a dust covered mirror, The two Karoshes attempted to exchange blows, each matching the other with parries and dodges. The two went blow for blow for what seemed like hours before Karosh finally landed a kick to the pale man's chest, sending him skidding back a few feet.
"Isn't this what you always wanted?" the pale man asked between gasps of breath. "An opponent that can finally match you? Someone who finally knows you? I think we could do this forever!" The pale man charged back in, cackling. This time the blows hit. Echoing like thunder, the combatants fists met faces, crushed ribs, and broke bones. The pale man drove his fist into Karosh's shoulder, pushing him to the ground. Karosh spun around on the floor, sweeping his leg and tripping his doppleganger and kicking him mid fall. The two clambered to their feet. 
Karosh took a step back, spitting up fresh blood and chuckling. " Yeah, I guess this is fun in a way. But this little playdate can't last forever. I got a girl to protect." Karosh and his pale reflection charged each other yet again. The brawl became slower and heavier. Each blow landed with finality, each fist driving with the certainty that it would be the last thrown. Finally Karrosh's fist slammed into the pale man's sternum, held for a moment before the chest caved against the force. The man collapsed against Karosh, chuckling softly. "See you on the other side, kid. Rematch?" His body flaked into ash that raised against gravity before disappearing into the void. Karosh stood there for a moment, a grin on his face. "Any time."
When Karosh opened his eyes again, they met the eyes of Bree, terrified and whimpering. Between the two was Karosh's arm, extended towards Bree with claws at her throat. Karosh immediately pulled back. "No." Karosh whispered as the possibility of what could've happened dawned on him. "No, no, no…" He fell to the floor, the mask clattering to the ground, and the inky ooze retracting to just a cover on him. "This thing is dangerous," Karosh said with certainty, "I almost lost you to it. I need to take it away; I need to keep it from hurting you or anyone else." Karosh staggered to his feet, turning to walk away. 
Then he felt a stiff wind against his leg. He turned to see Bree there, looking up at him. She spoke quietly, "no one derserves to be locked away. No one." Tears formed at the corners of Karosh's eyes. "What idiot told you that?" Karosh said quietly. The two of them smiled at each other.  And for the first time in her life, Bree was embraced; her protective tornado overpowered by Karosh's new found strength.  
If any of my services interest you, or you have any questions about them, you may email me at bravobard@gmail.com. For more of my work, follow me on Instagram at @bravobard. For updates on what I'm working on, follow me on Twitter at @bravobard.