Every story has a beginning, and the character you play is essentially a living story that unfolds through role-playing. The beginning of your character's story is called a backstory, and it is the cornerstone of your character. Let's take a look at how to make your character's backstory interesting and unique.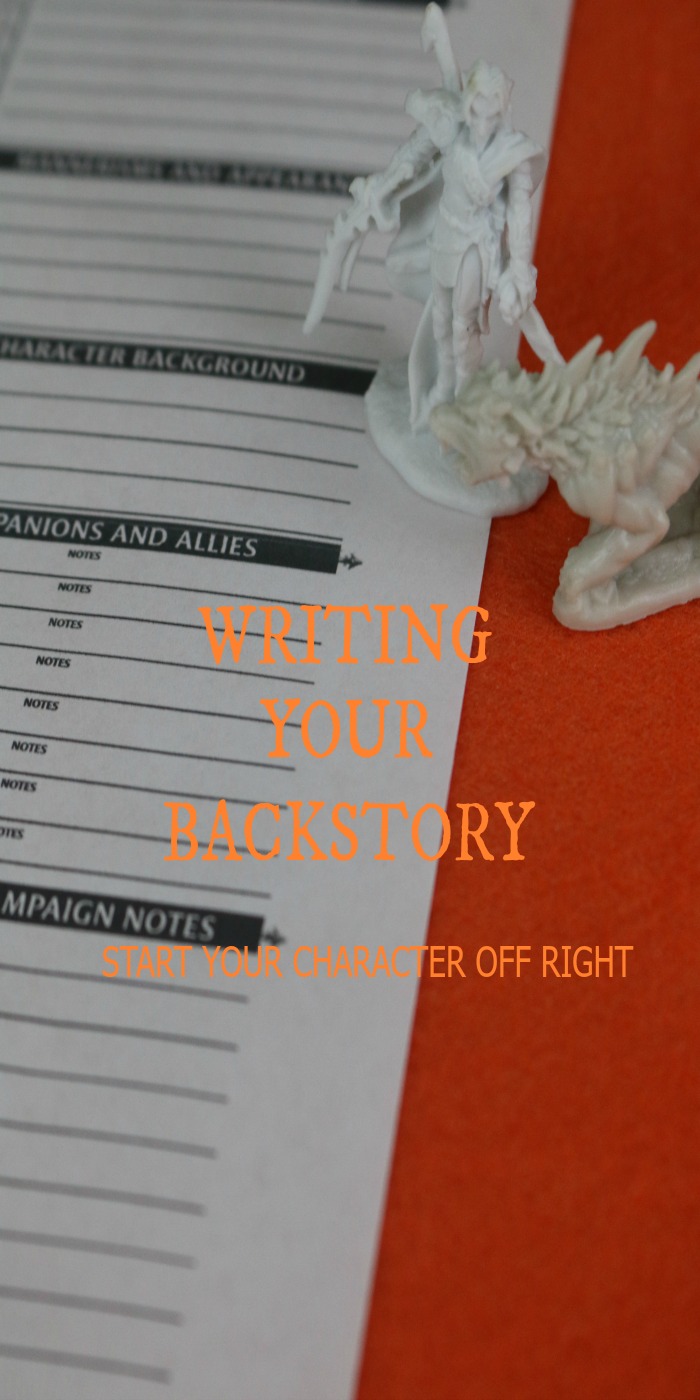 After you've chosen the general theme of your character, you'll want to write a backstory for your character. When writing a character's backstory, you can go as far back as you like. You may even start at the character's birth if it was notable. No, you don't have to write a whole biography for them, just point out the events in the character's life that shaped who they are. A character's backstory will go all the way until the point in his life that intersects with the start of the campaign you'll be playing in.
Now there's a few fundamental questions that your backstory should answer. The first of these being where he comes from. This doesn't always have to be some sort of special event. Your character doesn't have to be born into some grand destiny or lose his parents at birth; they can just simply be born. If you do want your character to have a special birth don't be afraid to go wild with an idea. Some of the best stories start off with a bang.
Once you've figured out where the story starts, you can move on to the climax of the story. This high point defines who your character becomes. This usually comes about as some big event in the character's life that spurs them to choose a life of adventure. It should also explain why your character is whatever class he is. Examples of this would be when Batman's parents die, or when Captain America receives the super soldier serum. The event sets them on a path that plays out over the course of their lives. This is a core aspect of your character, so this moment should define them.
Just because the climax is the most important part of your backstory doesn't mean you have to start there. Expanding upon your character through his backstory will help both you and your GM learn about who your character is. This will make your GM's life easier by letting him know how he can realistically rope you into adventures and how you'll handle said adventures. It will also help you have a better understanding of what makes your character tick. With this information and a bit of practice, role-playing your character will become fun and natural.
An important thing to keep in mind while you're building up your character's backstory is to make it interesting while keeping it realistic for a first level character. Sure, it's cool that your warrior fought off two dozen men bare handed, but how weak would those men have to be to fall to a fighter that is still learning? Your character can have accomplishments before setting out on their quest, but having them feel invincible will lead to a character that's either boring or embarrassing when they fall flat on their face. There are clever ways for you to skirt around this if you want. For example, your character might have spent their whole life as a great war general, but if he's just picked up magic he will be a novice wizard. That's perfect for a level one character while still allowing them to have accomplishments. It's all about balancing cool ideas with realistic expectations.
With a proper background story written, you will be the envy of your gaming group. It makes the GM's life easier, it makes your character more fun to play, and it makes your fellow players want to play with you more. By writing a solid backstory, you set the tone for a solid game and a character that you can build many more stories from. This character will be the talk of the table even after the game is over. So what are you waiting for? Go start and adventure with your new character, and keep those dice rolling high!