Games of all types tend to feature the hero. However, this is role playing we're talking about. You have a role to play, and it doesn't always have to be good. Sometimes it feels good to be bad. This can cause a headache for your fellow players if they're more inclined to do good, but it is possible to play an evil character in a good party.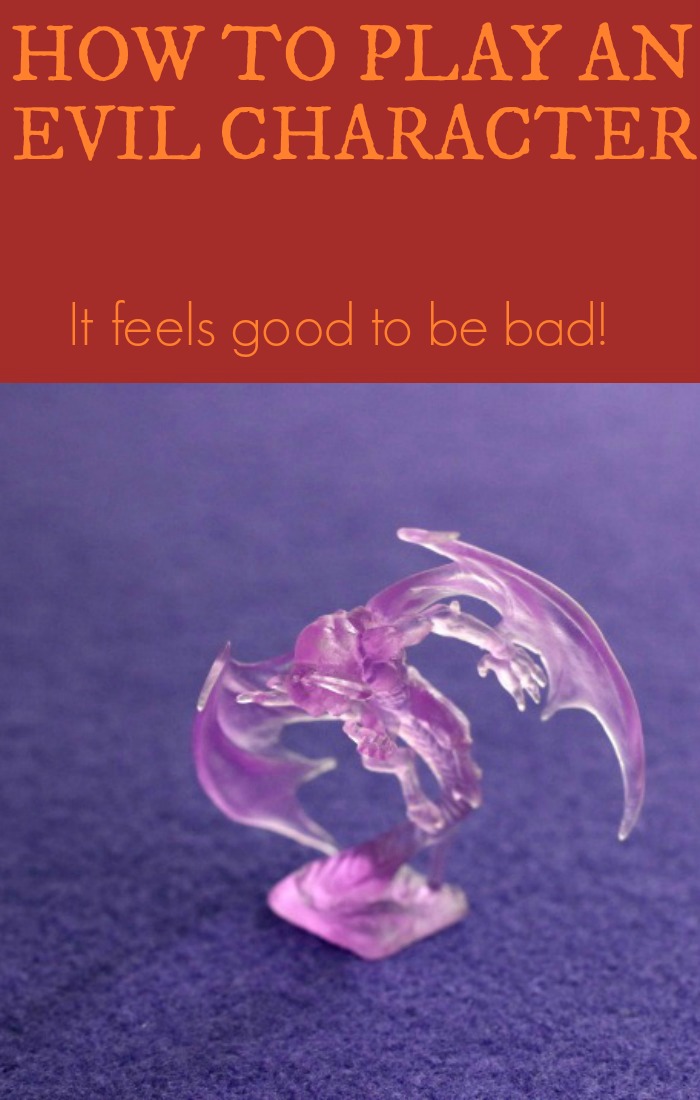 To play an evil character well, one must first build that character well. You can start with one of my other lessons, such as writing your backstory or making your character believable. Those are great places to begin when you're starting your new character. While building your character, there are a few things you'll want to keep in mind to ensure that your character will play well with others.
The first thing you'll need to consider is your party. Most parties fall on the chaotic neutral side of the alignment chart, which plays well with an evil character. As long as what you're doing doesn't affect their character negatively, a neutral character will usually allow you to perform evil deeds.  If your actions benefit them, the characters may even join you!
However, there are some players who love being the good guys. Whether it's a lawful good paladin or a chaotic good rogue, these players will usually keep an eye on you to stop any wrongdoings. I'd advise against playing an evil character in a party with any good characters, but if you must then you'll have to be a cunning about it. Don't perform your evil atrocities directly in front of the good players. That way you can talk your way out of confrontation with them. Confrontation between players can be fun as long as it's playful and in character, but be sure to keep it in character. Player issues can spiral out of control easily, and they're not a fun mess to clean up.
Once you've considered your party and deemed it a good idea to be bad, you can build your character. Try to make them realistic. If you have a motive that a real person would have, as opposed to something simple like "I want to rule the world", then your fellow players will be more understanding of your play style. This also makes your character more interesting. This means that other players will want to keep him around to see more of him.
Evil characters are hard to play. In order to play an evil character, a lot has to go right in order for you to do wrong. But with proper party consideration and good role playing, you can create a character that works with your group and create lots of fun for everyone. While you're out there creating that fun, keep those dice rolling high!