I recently had the chance to participate in my local library's How-To Festival, an event where experts share their knowledge in a series of classes. I was fortunate enough to run not one, but two classes. My first class was meant to teach the basics of Dungeons & Dragons, and the second lesson was geared towards new dungeon masters. So how did I prepare for such a task? How well did I fare, knowing that I had effectively zero experience with running classes? Well, here's what happened.Once I knew that I would be participating in the festival, I set out to prepare my lessons. This part was probably the most difficult for me, surprisingly so. I mean, after all, that is what I do here right? Teach aspiring players new lessons about playing Dungeons & Dragons. The problem in this scenario was the format of the presentation. While I may be used to speaking to a group of people as a dm, speaking to a group as a teacher is a whole new beast. I attribute most of my dm prowess to my ability to improvise. A class requires not only a structured script of sorts, but also falls within a time limit. These factors halted my progression of preparation for a while, until I made a breakthrough. I would prepare these lessons like I would any other d&d game I run.
For those of you who don't know, my preparation style is very minimalist. I find that this allows me the greatest creative freedom over the story as my players attempt to shape it through their actions. You can't mess things up if there's nothing to mess up, right? This is why I usually take parts of adventure modules, rather than running them wholesale. Taking this approach to my lessons relieved the fear of mistakes and opened up the possibilities for creativity. From there, it was a matter of making sure I covered the bases that are absolutely necessary to the game.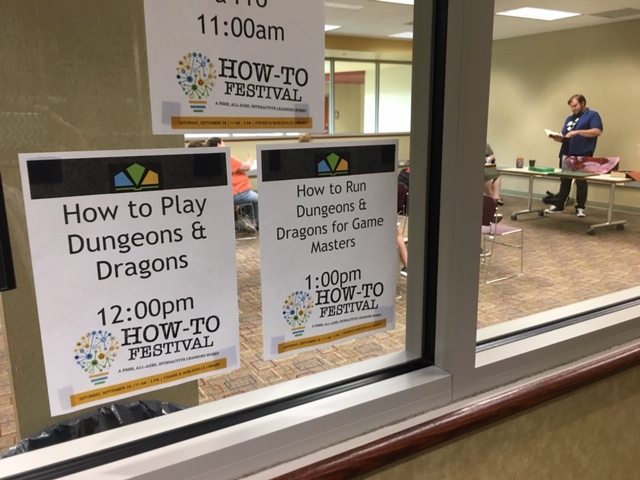 With my lessons prepared, I made my way to the library. The first lesson I ran was the basics of playing the game. Admittedly the character creation section of the class ended up eclipsing the rest of the lesson. But that's ok! Everyone was engaged throughout the session. Some students asked questions, others grouped up to help each other. Overall this lesson was a success. It's just a shame that I didn't get to run them through my combat example: a goblin warband who eventually get ambushed by a bulette. When I take on another class like this, I'll have to be sure to segment the lessons into more classes.
The second class I ran was focused on the dungeon master side of the screen. There were fewer students for this lesson (the eternal issue of scant DMs continues), but they were just as engaged as the last group. In this class we went through the basics of what it means o be a dungeon master. We discussed the three pillars of the game and how we can appeal to each of them. We covered world building and resources to help with it. We even discussed taking prewritten content and making it your own. This class ended up being more discussion based, with lots of back and forth conversation. Overall, another success!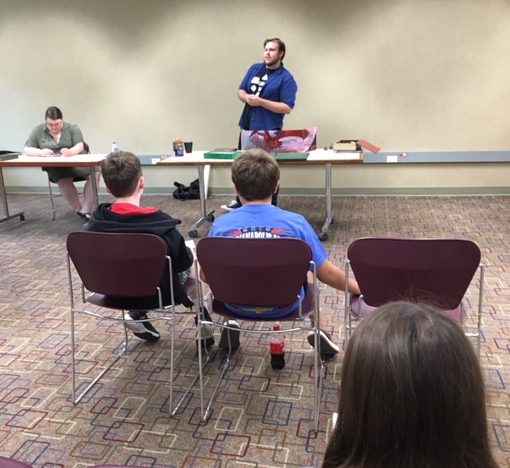 With both lessons complete, I could finally let myself relax. I had made it through two hours of public speaking without completely embarrassing myself, and I got quite a few new minds open to the world of dungeons & dragons. Mission accomplished! As a bonus perk, the librarian in charge informed me that both of my classes were the most successful in terms of headcount. This filled me with pride, and further asserted my belief that this wonderful hobby of ours is growing more each day. This was a delightful experience for me. It opened my eyes to new possibilities and new teaching techniques. You can bet I instantly agreed when I was invited to the next How-To Festival!