The holidays are right around the corner! Have you gotten all of your gifts to give yet? If you're still looking for something great for your loved one, I have an idea for you. This dungeons and dragons gift basket has everything a player could ask for, and then some. It has gifts for new players, organized players, and crafty players. All of this in one neat basket that's easy to place under the tree to surprise them on the big morning.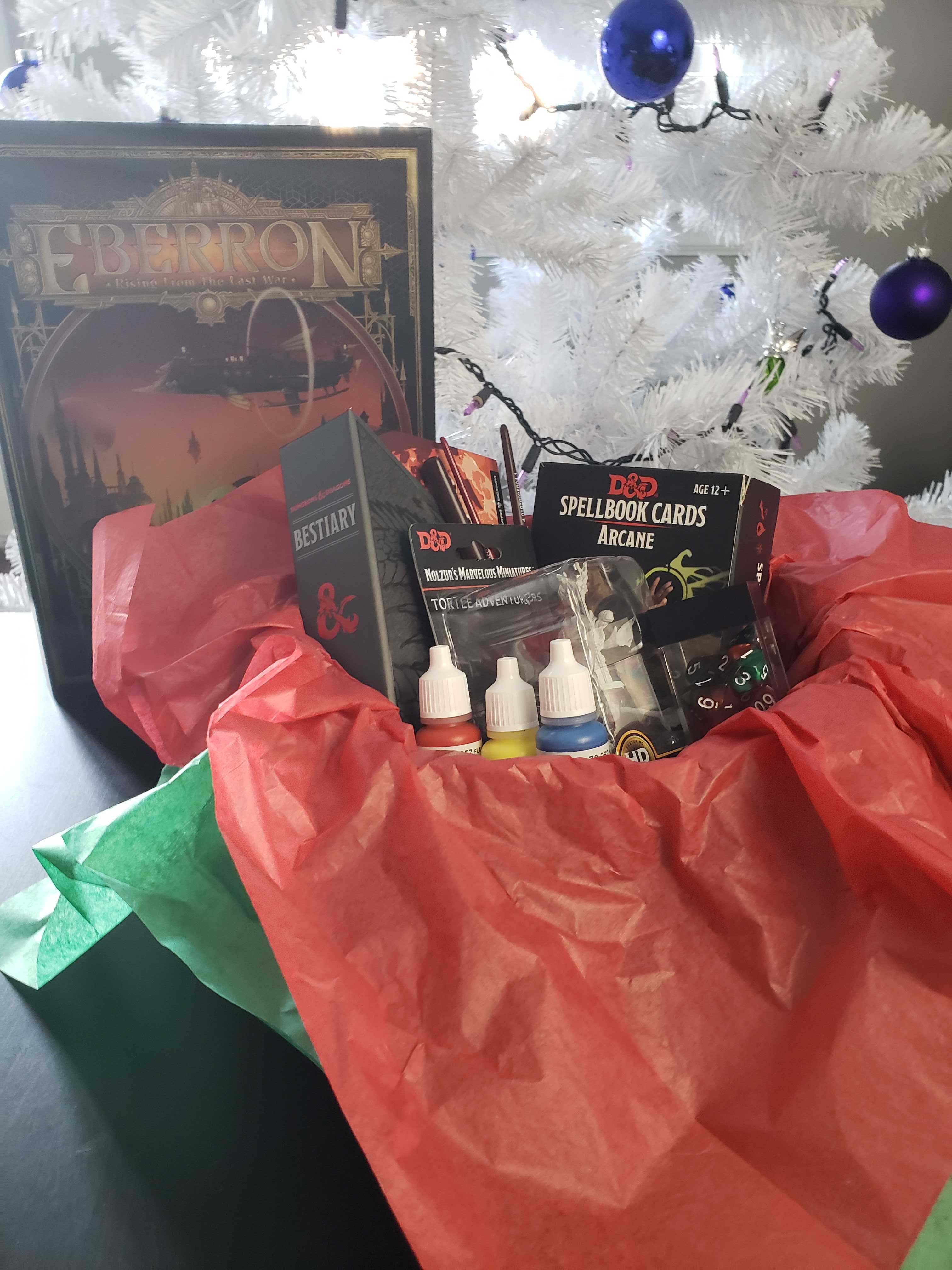 The basket contains some great gifts for players new and old. It has a set of dice, which anyone needs to start playing. And as anyone who's been playing for a while will tell you: you can never have too many dice. Dice come in many colors, so you can really tailor them to your giftee. The same can be said of the next item in the basket: the miniature. There are so many different and unique models, you'll be hard pressed to find one they won't like. If you're having trouble finding the perfect fit for your gift, you can always head down to your local gaming shop and ask them.
If your gift receiver is the artsy type, then it'll be a good idea to include items that let them express that creative urge. Items like paint for miniatures. I suggest a basic set to cover most everything, but if your gift receiver has a good foundation of paints it may be good to find some more unique colors. Once again your local gaming shop can help out with this. To use this paint they're also going to need paint brushes. These come in a variety of styles, but don't worry! Brushes eventually wear out, so there's no real wrong answer here. Worst case scenario is you'll replace an old brush that they probably should've thrown away by now.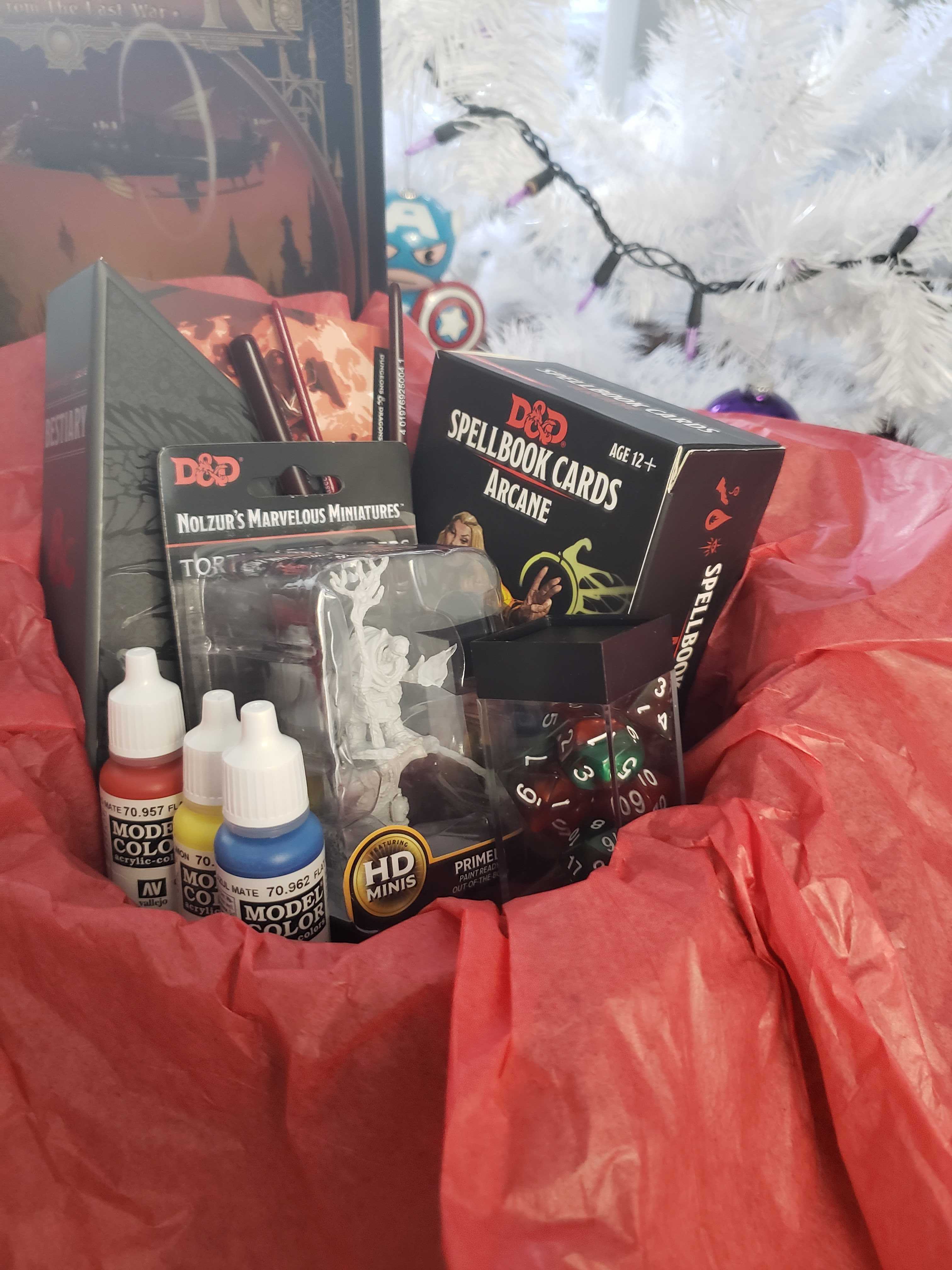 The next two items are perfect if your player loves to be organized at the table. The first item, the bestiary notebook set, comes with eight notebooks ready to be filled with character notes. They are pocket sized too, making them perfect for bringing around wherever, for as we know inspiration strikes in the oddest places. The next item is made for players who love casting spells but hate rifling through papers to find said spells. With these spell cards, arcane power is at your finger tips. Just collect your prepared spells as a hand of cards in front of you, and you're set! No more checking the book for spell details.
The final item is the proverbial cherry on top. This is an admittedly pricey addition, but it will really drive home the thought put into this set of gifts. I'm talking of course about a dungeons and dragons source book. This can be the Player's Handbook to start off an adventure, or it could be the newest Eberron book. I've covered the Eberron book here if you want an idea of it. I've also covered many other adventures on this site, if you're searching for more ideas.
Speaking of ideas, if you're still looking for something extra to add that wow factor, I offer a variety of services for fans of dungeons and dragons. After all, nothing says holiday cheer like going on an adventure with your family. A miniature that's been custom painted also makes a great stocking stuffer. And if you've got a game master to gift for, a novelization of a game they've ran is sure to brighten their holidays.
This dungeons and dragons basket has something for every kind of player. If this is the first thing they see on Christmas morning, then they'll have a happy holiday indeed. So why not start your holiday off right?